Cat Hope doesn't want to go to prison. She needs a job, and she needs it fast: judge's orders.
Kay Mahon, office worker by day and hacker by night, is on the run from a past life that he'd rather not remember.
When their paths cross, they begin to investigate the truth behind the deaths of Cat's parents, the successful rock star couple Jackie and Adam Hope. Little do they know that their quest is putting Cat in grave danger.
Are you hooked? Well, that's great news, because I've just treated you to a preview of the blurb for my upcoming release, my amazing new thriller/suspense titled DEAD HOPE. And I'm terrifically excited about this new release, not only because it seems a long time since I last shouted about a brand new Nicky Wells book, but also because it shows you the results of a completely new and quite different journey for me: a gentle venture into the dark and murky world of thrillers, of crime, of psychological drama, not to mention trauma. But of course, it is still me who wrote this book, so you'll find a touch of romance and definitely a positive outlook in the story. Because you know me: I'm a glass-half-full-kinda girl.
Release day for DEAD HOPE is 23 February 2017, which is only 16 short days away. But now that I've got you hooked, it would be unfair to simply make you wait. So instead, you can enter a giveaway to win one of two signed paperbacks of DEAD HOPE, and you can enter right now. Just hop on over to Goodreads and sign up.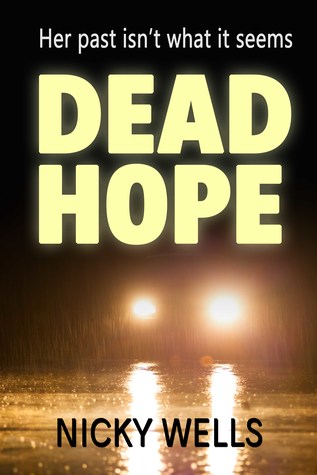 The giveaway is strictly pre-launch only and will close on 22 February 2017, so on release day itself, you will already know if you won. Or not! And of course at that point, the Kindle edition will be yours to purchase as well as the paperback one, so you won't have to wait any longer then. How's that?
So here's three cheers for DEAD HOPE and best of luck to you all. Feel free to tell your friends about the giveaway (and the book, while you're at it), and I hope to see you all during the book tour organised by the awesome JB Johnston of Brook Cottage Books, which will start on 27 February and bring more opportunities for prizes.
Are you ready?